What is Technical SEO
Why you should care about Technical SEO
How does Technical SEO Work
Few Aspects of Technical SEO

Page Speed
Mobile Friendliness
Mobile First Indexing
Responsive Design
Schema Markup/Structured Data
Site Architecture

Moral of the Story
What is Technical SEO?
What is Technical SEO? Technical SEO refers to the process of optimizing websites for search engines. It involves things like making sure that pages load quickly, ensuring that content is easy to read, and using keywords in titles and meta descriptions.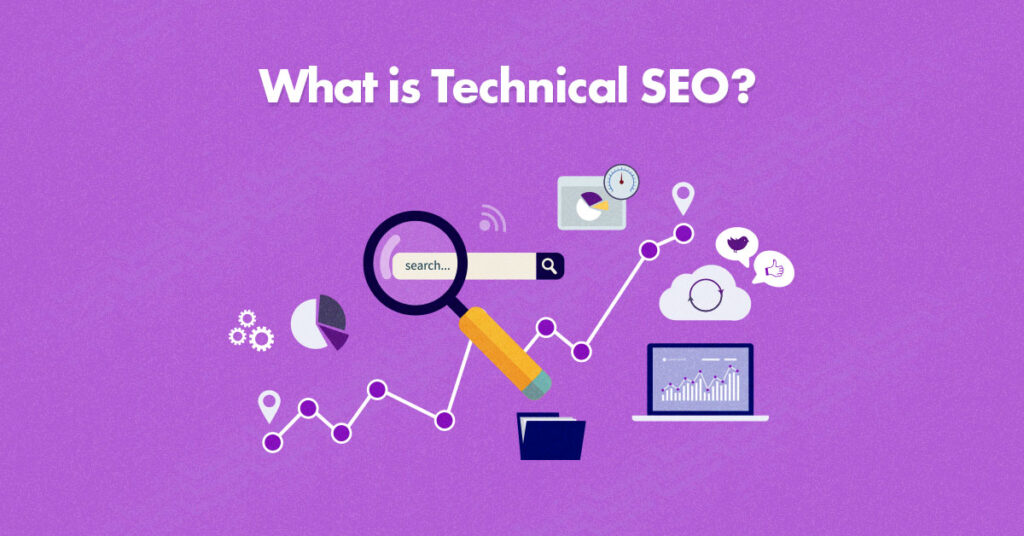 Why Should I Care About Technical SEO?
If you're not familiar with technical SEO, then you might think that it's just another term for "SEO" (search engine optimization). However, there are some key differences between these two terms.
The first thing to know about technical SEO is that it's different from regular SEO. Regular SEO focuses on making sure that your website appears high in search results for keywords related to your business.
For example, if you sell shoes online, you might want to optimize your site for the keyword phrase "buy shoes online."
However, technical SEO focuses on making sure your website functions well across multiple devices and browsers. In other words, it helps ensure that your website loads quickly and works properly on mobile phones, tablets, laptops, desktops, and smart TVs.
How Does Technical SEO Work?
If you're looking for ways to improve your rankings, then you should start by understanding how technical SEO works. This includes things like making sure your site loads quickly, ensuring that your pages load fast, and using structured data markup.
The first step to improving your search engine optimization (SEO) is to understand how it works. In other words, you need to know what technical SEO is and how it affects your website. For example, if you want to rank higher in Google, you need to ensure that your site loads quickly. You also need to use structured data markup, which helps Google better understand your content. Below we have listed a few important aspects of Technical SEO which needs to be in place if you want to rank better on Search Engines.
Few Aspects of Technical SEO
1. Page Speed
If you're not familiar with page speed, it refers to how quickly a web page loads. A fast page will load faster than a slow one. This is because loading pages takes up bandwidth and slows down other users who are trying to access the same site at the same time.
2. Mobile Friendliness
Google has made mobile friendliness an important ranking factor for its search engine results. So, if you want to optimize your website for mobile devices, make sure that your site is responsive.
3. Mobile First Indexing
In 2014, Google announced that it would begin indexing mobile first. This means that when users search for something on Google, they will see the mobile version of the webpage at the top of the list. If you haven't yet made your website mobile friendly, you should do so as soon as possible.
4. Responsive Design
There are two main ways to make sure your website is mobile friendly. One is responsive design. With responsive design, your website automatically adjusts its layout based on the device being used by the user. The other option is to use a mobile first index. With this method, Google begins with the mobile version of your website and then crawls up the hierarchy until it finds the desktop version.
5. Schema Markup
Schema markup is an XML file that contains data about your web pages. This data helps search engine crawlers understand what each page is about. You can use schema markup to tell search engines about the structure of your pages, so they can better index them.
6. Site Architecture
A website architecture is the foundation of any website. If you build a house without a solid foundation, it will not last very long. Likewise, if you do not have a good foundation for your website, then it will not last very well either.
The first thing you should consider when building a website is the structure of the site itself. You want to make sure that you have a good foundation before you add anything else to the site. Once you have a good foundation, you can then add other things such as graphics, content, etc.
Moral of the Story
If you want to rank higher in search results, then you should care about technical SEO. Google has said that it uses page speed and mobile friendliness as ranking factors. These two things are very important because if your site doesn't load fast enough or isn't optimized for mobile users, then you won't be able to rank high in search results.